Grand Valley Kenpo Karate
Mike Stephens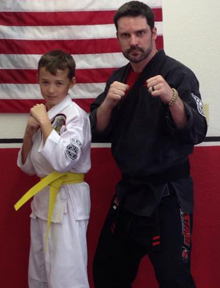 Mr. Stephens began his journey in Kenpo in 2000 in New Bedford, Massachusetts under 6th Degree black belt Leo Lacerte, a pioneer in the art of Kenpo in New England. After nearly three years of training, he moved to Grand Junction, Colorado. For the next couple of years he travelled back and forth across the country to continue training with Mr. Lacerte.
Under the guidance of Mr. Lacerte, in 2005, Mr. Stephens began teaching the art privately in Colorado. In 2006, Mr. Stephens began training locally under one of Master Mohammad Tabatabai's students, 5th degree black belt Sifu Ken Lindorff, ultimately earning his 2nd Degree Brown belt in Kenpo and began learning the art of Chin Na and G2K, Sifu Lindorff's mix of Kenpo and Chin Na. Soon after, Mr. Lindorff and Mr. Stephens parted ways he then continued his training through Mr. Lacerte, who awarded him his 1st Degree black in 2009. After meeting 4th degree black belt Joseph Ellerin in 2011, Mike Stephens and Joseph Ellerin trained extensively and evenutally opened one of the first Kenpo Karate schools in the grand valley.
In 2012, Mike Stephens earned his 2nd Degree black belt under Senior Professor Rich Hale's Ohana association, Joe Ellerin and Leo Lacerte and began training in Brazilian Jiu Jitsu.
GVKK Instructors/Assistants
Keli Stephens - Little Dragons
Ed Frederick - Kenpo
Joshua Rushing - Kenpo
Mike Bou - Kenpo
Melania Ullerick - Kenpo