Grand Valley Kenpo Karate - Grand Junction, Colorado
Little Dragons 3-5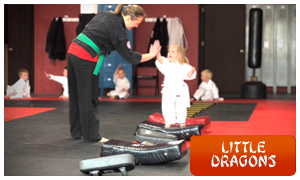 The beginning fundamentals of balance, self control, listening skills and coordination is what the entry level into Kenpo is all about. These classes will help introduce your children to the building blocks of physical activity with just enough martial arts to help ease them into the chilren's classes, where self defense will bcome the main focus.

WHAT YOUR CHILD WILL LEARN
• Manners
• Focus
• Balance
• Coordination
• Discipline
• Fitness
• Self Control
• Listening Skills
* Basic Stances, Blocks, Strikes and Kicks

Children 6-9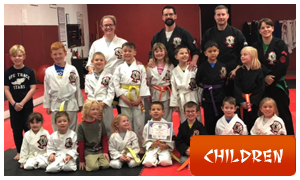 Kenpo Karate can be an integral part of your son or daughter's lives. It gives them the opportunity to exercise their minds and bodies. It also helps them with life skills that they will be able to use for the rest of their lives. You have the opportunity to let your son or daughter become part of a very exclusive learning and character building process. The Development of mind, body and character are a much bigger part of what Martial Arts will help to develop.


Our children's classes are special classes for children ranging from ages 6-9 and uses a comprehensive curriculum designed to help your child develop motor skills, listening skills and a foundation for success in school.

WHAT YOUR CHILD WILL LEARN
• Manners
• Respect
• Focus
• Balance
• Coordination
• Discipline
• Fitness
• Control
• Teamwork
• Striking and Grappling
Youth 8-12
As your child grows, their need to develop higher skill-sets increase. Our youth program takes the curriculum up a notch, adding more depth and fitness to their class routines. At this level, the student will be learning more intricate self-defense techniques, higher levels of self discipline and walking the path towards black-belt excellence.
Adult 13+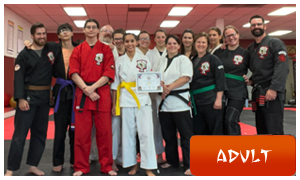 AMERICAN KENPO FOR ADULTS
Grand Valley Kenpo Karate helps men and women develop the self confidence they need to survive in our unpredictable society. We will not only give you a great workout but you will also learn to defend yourself, period. The cities we live in are full of dangers towards everyone, especially women and children, and we can help prepare you and your family for any attack, armed and unarmed. We also cater our workouts to the individual student so they can train at their own pace. You will also learn how to channel your new talents into a proven self defense system with blazing speed, power and accuracy. You will also learn the fundamentals of Jiu Jitsu. We will help to develop the self confidence that you need to protect your family and property, if the need arises. Let us help you become confident, self-aware, healthy and most of all, safe
Our workouts are a great way to get in shape…
The great thing about our classes is they are like an exercise program with a bonus! You learn to defend yourself while you get in shape. Also, unlike some aerobics classes, you never feel out of place because everyone works at their own individual pace. Our instructors are patient, professional and totally committed to your progress.