Grand Valley Kenpo Karate
Mike Stephens
Mike Stephens began his journey in Kenpo in 2000 in New Bedford, Massachusetts under 6th Degree black belt Leo Lacerte, a pioneer in the art of Kenpo in New England.
At the end of the third year of training, Mike and his family moved to Colorado and continued his training with Mr. Lacerte with in-person training, as well as video training. During the next three years, Mr. Stephens helped Mr. Lacerte produce the "Ed Parker's Basic Fundamentals" book, which was published in 2010.

In 2006, Mr. Stephens began supplementing his training locally under one of Master Mohammad Tabatabai's students, 5th-degree black belt Sifu Ken Lindorff, ultimately earning his 2nd Degree Brown belt. Mr. Lindorff also trained in the art of Chin-Na, which began Mike's interest in joint locks, manipulation, and ground fighting.
In the fall of 2010, Mr. Stephens began training under Mr. Joe Ellerin, a 4th-degree black belt under the lineage of Joe Polonzo and Gabe Valez. Mr. Stephens trained extensively under Mr. Ellerin and eventually opened the first commercial Kenpo Karate school in western Colorado.
In 2012, Mr. Stephens and his school joined the Ohana Kenpo Karate Association under Mr. Rich Hale, who would become an important part of Mr. Stephens' Kenpo journey moving forward. Under the guidance of Mr. Ellerin, Mr, Lacerte, and Mr. Hale, together, Mr. Stephens was awarded his 2nd Degree Black Belt on November 24th, 2012.

Shortly after earning his second degree Black Belt, Mr. Stephens began a new journey into Brazilian Jiu-Jitsu under the Gracie Barra school in Grand Junction, Colorado. In April of 2016, Mike Stephens earned his blue belt under Kevin Lewis.
In 2013, directly after the untimely passing of Mr. Leo Lacerte, Mr. Hale had transitioned into Mr. Stephens' full time personal instructor and mentor. Over the next few years, Mr. Hale designated Mr. Stephens as the Ohana Kenpo Karate Association's Vice President. During this time, Mr. Stephens and the Ohana board traveled to locations around the nation, teaching seminars on the art of Kenpo.

On March 18, 2017, Mr. Hale awarded Mike Stephens with his 3rd degree Black Belt. On May 29th, 2021 Mike Stephens was awarded his 4th degree black belt in front of his students and peers. Currently Mr. Stephens is on his 12th year of running the first commercial school in the art of Kenpo within the Western Slope of Colorado, and continues to train in Brazilian Jiu Jitsu.
Mike Labbitt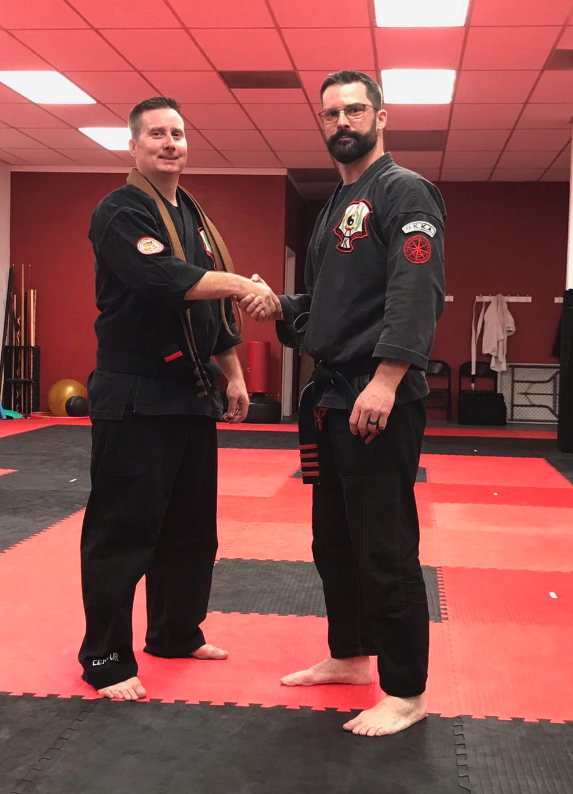 Mike Labbitt has been training in the art of Kenpo since 1993, out of Montrose, Colorado, under the instruction of Kathy Little. After reaching 2nd brown, Montrose Kenpo Karate shut their doors, and Mike Labbitt started to find success as a professional motocross racer. Eventually he found his way back in Kenpo by starting his journey over with Grand Valley Kenpo, and becoming the first student to reach 1st Degree Black Belt on December 28th, 2021. Mike Labbitt has years of experience on the mats with many different martial arts, and has also worked in law enforcement with the city of Grand Junction.
Meka Ullerick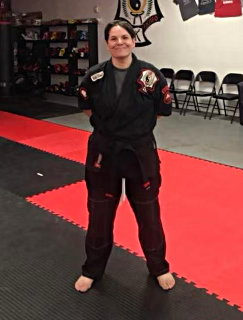 Meka Ullerick started her martial arts journey by earning her junior black belt in Taekwondo in the 1990's. Her journey with Kenpo started in the summer of 2015, after signing up her son with Grand Valley Kenpo. She immediately fell in love with the art and became a fixture within the academy going forward. "Ms. Meka", as she's known in the school, has earned the respect of students, peers and parents with her affable, yet disciplined teaching style - as well as competing in fighting and forms in many competitions throughout the western US. Meka has worked at the school as an assistant, a junior instructor and in the field of special education outside of the school. Mrs. Ullerick is currently working on her Masters Degree in Art Education.

Meka Ullerick earned her 1st Degree Black belt on April 15th, 2022.
Seth Larson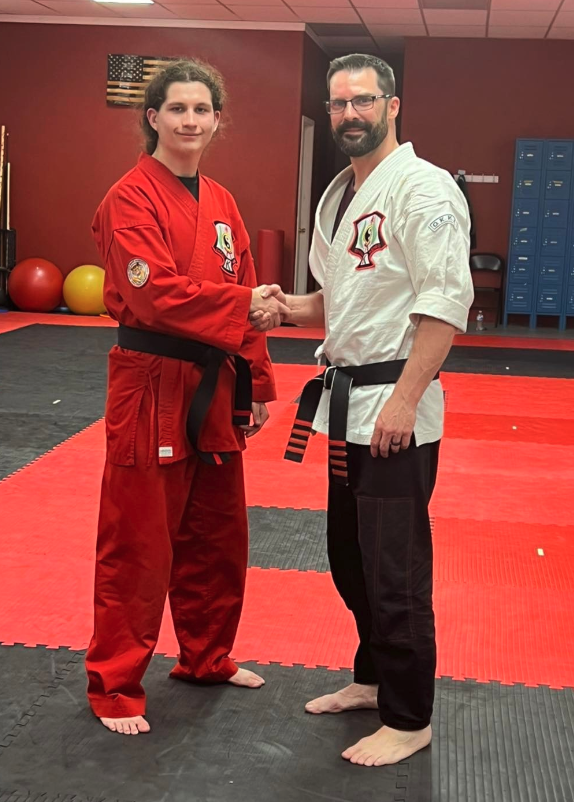 Seth Larson began his journey in the martial arts in the winter of 2013, and is one of Mr. Stephens' first students. Starting as a young boy, Mr. Larson worked diligently through the children and youth ranks, and then started his journey over once again through the adult ranks, eventually earning his 1st Degree Black Belt on April 15th, 2022. Seth has competed in many tournaments throughout his journey, specializing in his blend of boxing and Kenpo. Mr. Larson works as an assistant at the school, and a recent college graduate in the field of welding.
Joshua Rushing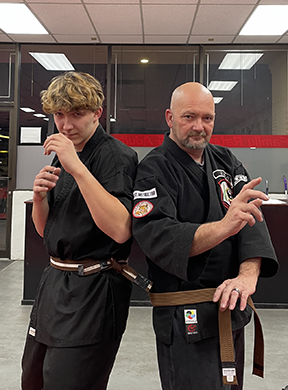 Joshua Rushing started his journey in the martial arts in the art of Taekwondo, eventually earning his adult Red Belt. After the school had closed, Mr. Rushing found his new love of the arts in the world of Kenpo, joining our academy in the summer of 2013, along with his son Jason. Mr. Rushing has been assisting on the mats as a teacher since he earned his purple belt, and has used his incredible writing skills to author many white papers on the art of Kenpo. He has a deep understanding and love for the academics of the art, and enjoys sharing that love with the countless students he teaches week after week. Joshua is working towards his 2nd degree brown belt.
Ed Frederick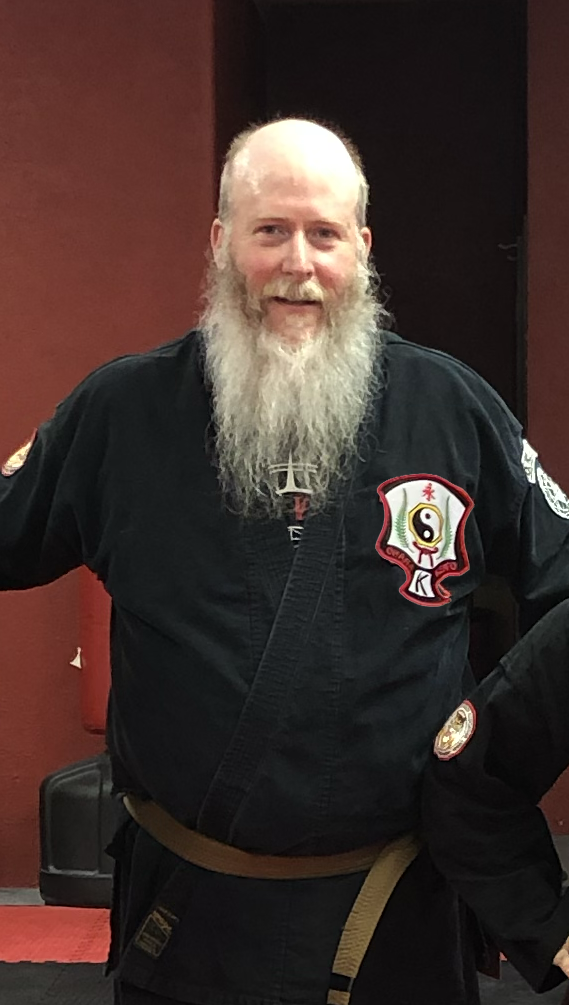 Mr. Ed Frederick started his journey with Grand Valley Kenpo in November of 2012, and has the honor of being the first adult student to sign up. Mr. Frederick has been an absolute staple within the school, teaching classes on Thursday nights since earning his green belt - bringing his larger-than-life style of Kenpo to all youth and adult students. Ed earned his adult 2nd Degree Brown Belt in 2019 and is working towards his 1st Degree Brown.
Keli Stephens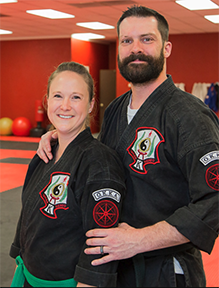 Keli Stephens' journey in the art of Kenpo began when she, along with then fiance Mike Stephens and with the guidance of Joe Ellerin, opened the first commercial Kenpo Karate school in the grand valley. With a degree in Special Education, and with many years experience in the field of teaching, Mrs. Stephens created the Little Dragon's program and has been introducing the world of martial arts to children all across the valley for many years.